HOW TO SHOP FOR GUYS (HOLIDAY EDITION)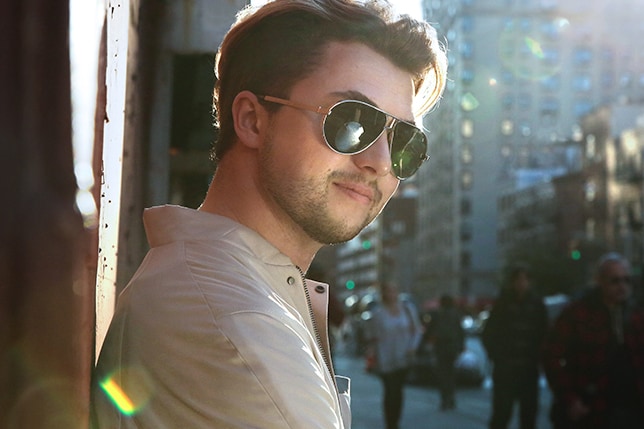 Every day, I create content, run my lifestyle site, IanMichaelCrumm.com, and develop my hotel editorial platform, WearWeWent (I'm a co-founder). Due to my crazy-busy schedule, quality time with my family is what I look forward to the most during the holiday season. It's nice to have this time in the year when most people are able slow down, unwind a bit, and have those moments. This is my "no cellphone time." And of course, there's always the magic of delivering the perfect gifts.
People say it's tough to buy holiday presents for guys, and I fully understand. I want to get it right, put a smile on someone's face. One of my favorite things to do is go to the movies with my grandma (aka Glamie) over the holidays—spending time with her is the #1 gift in my book. I'd say you could borrow Glamie for your own holiday gifting...but her schedule is fully booked!
So, here are some other gift ideas: things to ask for, things to give, based on presents I've actually received. These are the stand-outs. Happy Holidays!
The Everlasting Gift
A black leather jacket—it's a classic wardrobe staple that never goes out of style.
The Sweetest Gift
Something customized—putting thought into a gift makes it the best, even if the alternative thoughtless gift is super-luxe and expensive. My best friend, Jess, always gives me a card filled with our memories and inside jokes + a fun gift related to a significant moment that we'd shared years before.
The Gifts That Keep On Giving
Charitable donations—again, the key is to make it personal. A couple of charities that I advocate for are OutRight Action International and The Wistar Institute.
Health and wellness—skincare is great in this sense, because it can (and should) also be customized to the guy who'll be using it. Personal favorites: MAX LS Age-less Power V Lifting Cream and the Daily Moisture Defense Lotion SPF 15 from Lab Series. Power V Cream helps prevent my skin from showing signs of aging, and the SPF lotion protects it from harsh UVA/UVB rays on a daily basis—including when I travel. (Hopefully to a sunny locale.) They were perfect gifts for me.
Wireless headphones—I use them at least twice a day.
Subscriptions to magazines or to a streaming service—There isn't a lot of snail mail these days. But I personally love to get mail and sit down with a new magazine. And watching the series Ja'mie is one of the great gifts of my life. You know who you are, gifter. Thank you.
The Life-Improving Gift
Better my mind and body—a subscription for a juice cleanse, holistic treatments like massage and acupuncture. I think a fun, challenging, life-improving gift would be to unplug from the virtual world with a technology detox by going camping, or "glamping," with friends.
The Surprising Gift (In A Good Way)
New experiences, especially ones I could do with a friend. I appreciate anything that eases me into trying something new. Great examples: a sushi-making class, a Segway tour in a city that I've never had the chance to explore, wine tasting on a sailboat…and if you really want to surprise me with a major experience, concert tickets. I'll let you guess who I'd like to see.